The Picture of the Mountains
***Official Selection Wasatch Mountain Film Festival 2016 ***
***Winner AdventurePro Video Festival Australia 2015***
Into the Sunshine  is a series of short films created by Brisbane based filmmaker Matt Raimondo that will take you into the lives of some remarkable Queenslanders, showcasing their powerful connection to the environment.
In this episode, renowned rock climber John O'Brien recalls his childhood fascination with the Glass House Mountains and how a poster once pinned on his bedroom wall grew into a dream to conquer the craggy volcanic remnants that rise from Queensland's Sunshine Coast hinterland (70 kilometres from Brisbane).
Like many dreams, John's took a while to materialise and it wasn't until he was 45 years old that he really started pushing his limits in rock climbing – proving that age is no barrier to learning a new skill.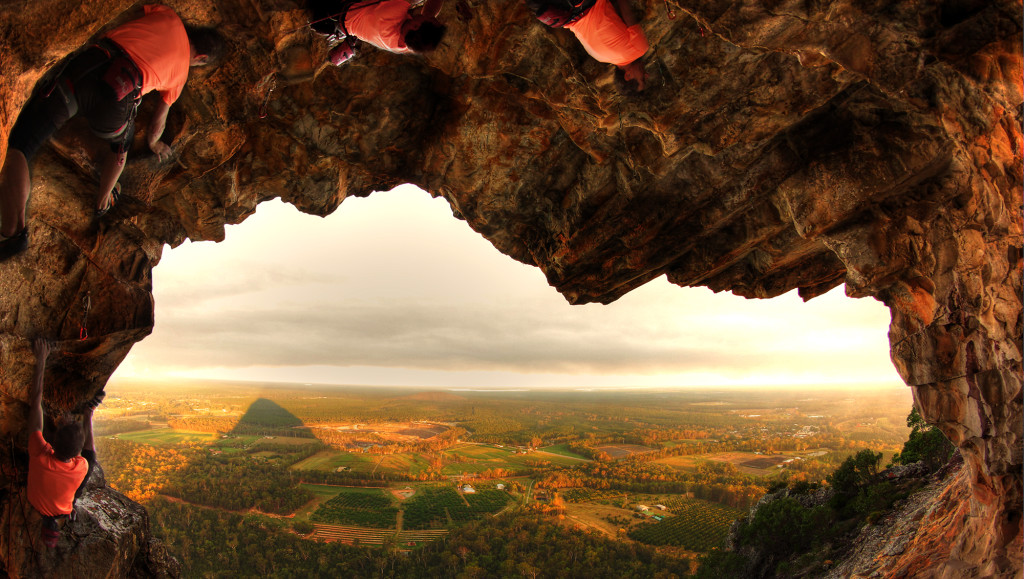 Now aged 54, John is a bit of a rock star on the Queensland climbing scene – achieving notoriety for his remarkable strength and agility, and more specifically for his daring feat of scaling overhanging walls.
Into the Sunshine: The Picture of the Mountains follows some of John's favourite climbs including Mt Tibrogargan, Mt Tinbeerwah and Coolum Cave – where hikers can find him casually suspended above a 40-foot drop or scaling a seemingly impossible cliff face.
John is sponsored by Wild Country, Red Chili and Sterling Rope.
Follow John's climbing at jjobrienclimbing.blogspot.com.au.